Operational Energy Innovation
Operational Energy Capability Improvement Fund (OECIF)

The mission of the OECIF program is to guide operational energy innovation via targeted S&T investments. As an Advanced Technology Development (6.3) fund, OECIF focuses on technology integration and demonstrations for field experimentation and test. OECIF operates in collaboration with the Services and is structured to leverage, not replicate, the existing infrastructure and organization in the Services. Each Services's operation energy lead works collectively with OECIF to develop, select, and oversee the OECIF investments.
Congress mandated the creation of OECIF in 2012 as supply lines were highly contested in Afghanistan. Other driving forces that influenced OECIF investments are shown below. These include department wide strategy such as the Quadrennial Defense Review, the National Defense Strategy, as well as input from the Energy and Power Community of Interest (EPCol).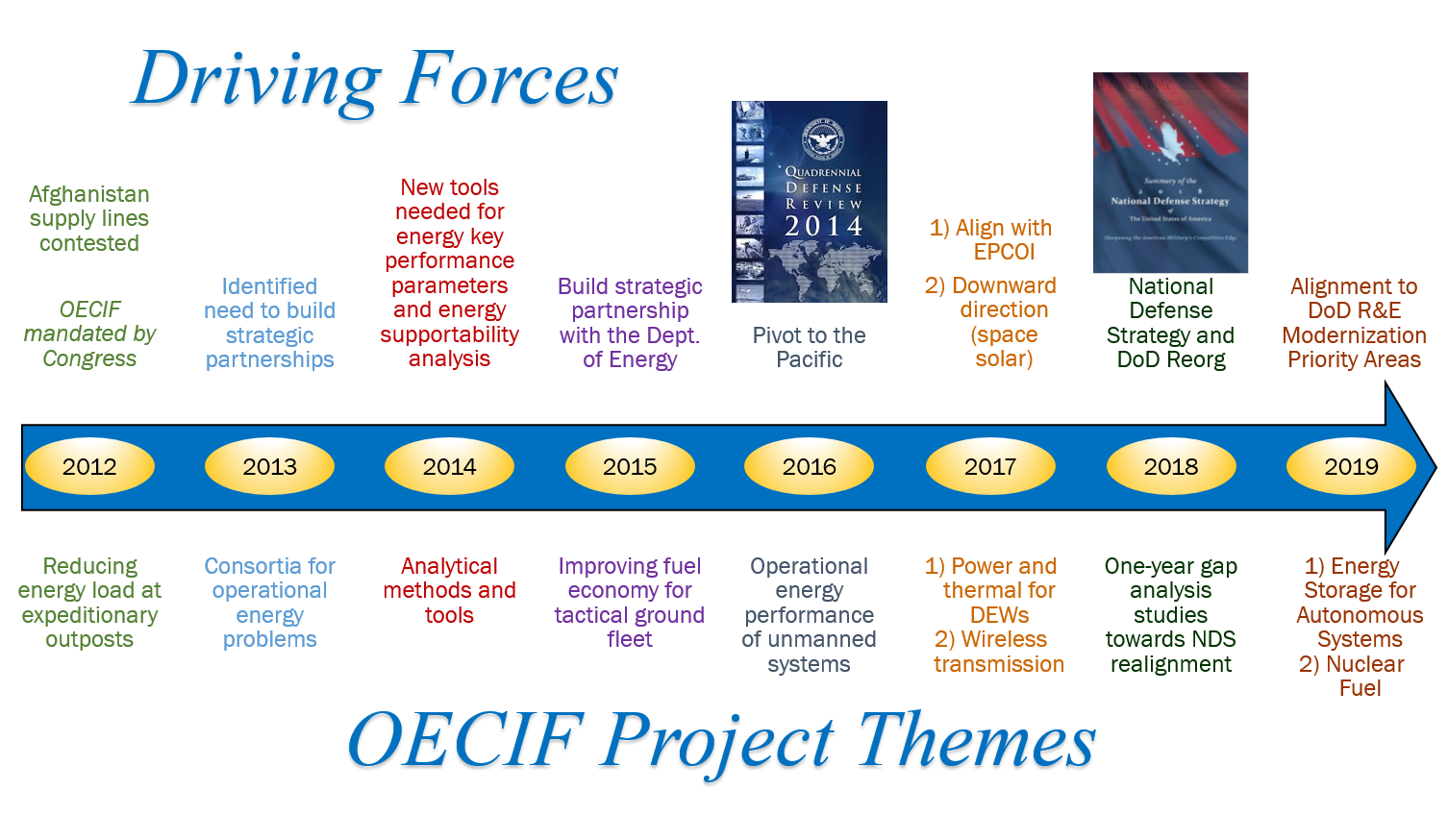 The goal of the OECIF program is to stimulate the transformation of DoD capabilities to meet its operational energy strategic objectives and promote long-term improvements to military capabilities aligned to the Department's operational energy strategy. 
Investments are selected with the Services each year through a competitive process. Decisions are based on the OECIF strategy, the needs of the Joint Force, and assessment of which projects will yield the greatest impact to the warfighter capability, logistics and operational risks, and mission effectiveness. OECIF partners with all Services (and Laboratories), Office of the Secretary of Defense (OSD), Department of Energy (National Laboratories), Academia, and Industry to bring best of breed solutions to warfighters.
OECIF success is measured by its impacts.  The key metric is the successful transition of technology from S&T to an acquisition or direct insertion into operations. One of OECIF's roles is in fact to de-risk technology sufficiently to attract further Service, other agency, or industry investment.  To date, OECIF has a successful transition rate of 76%.
OECIF's efforts will ensure evolving future operational energy technology requirements are met to compliment the Services investments and, through OE-I leadership, rapidly address the new critical issues arising from today's threats that have been under-recognized and under-resourced.