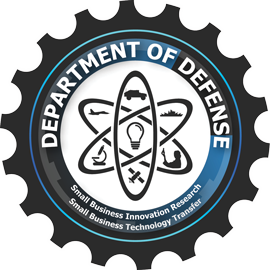 Small Business Innovation Research
Small Business Technology Transfer

Small Business Concerns (SBCs) are strongly encouraged to engage with their Contracting/Agreements Office to determine what measures can be taken in the event contract/Other Transaction (OT) performance is affected due to the COVID-19 situation. SBCs are encouraged to monitor the CDC website, engage with your employees to share information and discuss COVID-19 concerns employees may have. Please contact your Contracting/Agreements Officer to identify potential impacts to the welfare and safety of your workforce and any contract/OT performance issues. Most importantly, keep in mind that only your Contracting/Agreements Officer can affect changes to your contract/OT.
Joint DoD and Component (Combined) Instructions and Topics will remain on this website until further notice.
DoD SBIR/STTR SUPPORT HELP DESK
EMAIL: DoDSBIRSupport@reisystems.com
Monday – Friday 9:00AM – 5:00PM EST
Beginning April 1, 2021, the DoD SBIR/STTR Innovation Portal (DSIP) Help Desk will be begin processing all new support requests VIA EMAIL ONLY.
This new system utilizes an automated ticketing system and the same Help Desk email address as previously. All phone inquiries will be routed to an automated message asking to submit their support request via email. Support requests can be submitted 24 Hours, 7 days a week and a ticket will be generated tracking your correspondence. Assistance will continue to be provided during standard operating hours, Monday thru Friday 9:00AM to 5:00PM.
DARPA HR001121S0007 -27, -28
Pre-Release: September 13, 2021 (via beta.SAM.gov)
Open: September 28, 2021
Close: October 28, 2021 at 12:00PM ET
Joint DoD SBIR 21.3 / STTR 21.C
Pre-Release: August 25, 2021
Open: September 21, 2021
Close: October 21, 2021 at 12:00PM ET
DARPA HR001121S0007 -23, -24, -25, -26
Pre-Release: August 24, 2021 (via beta.SAM.gov)
Open: September 09, 2021
Close: October 12, 2021 at 12:00PM ET
Joint DoD and Component Instructions and Topics
SPACE DEVELOPMENT AGENCY (SDA) ANNUAL BAA
The 2011 SBIR/STTR Reauthorization and the 2014 SBIR Policy Directive from the Small Business Administration (SBA) provide an outline for minimizing the risk of Fraud, Waste and Abuse (FWA) in the SBIR and STTR programs.
Knowingly and willfully making any false, fictitious, or fraudulent statements or representations may be a felony under the Federal Criminal False Statement Act (18 U.S.C. Sec 1001), punishable by a fine of up to $10,000, up to five years in prison, or both.
The Department of Defense, Office of Inspector General Hotline ("Defense Hotline") is an important avenue for reporting fraud, waste, abuse, and mismanagement within the Department of Defense. The Office of Inspector General operates this hotline to receive and investigate complaints or information from contractor employees, DoD civilians, military service members and public citizens.
Individuals who wish to report fraud, waste or abuse may contact the Defense Hotline at (800) 424-9098 between 8:00 AM and 5:00 PM Eastern Time or visit the DoD IG Hotline to submit a complaint.
Mailed correspondence should be addressed to the Defense Hotline, The Pentagon, Washington, DC 20301-1900, or e-mail addressed to hotline@dodig.mil
To learn more about specific SBIR/STTR FWA cases or for FWA tutorials and additional training material, please visit: SBIR.gov