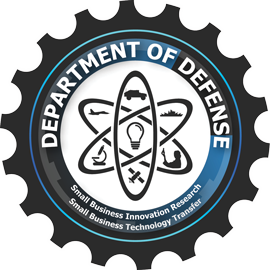 Small Business Innovation Research
Small Business Technology Transfer

Small Business Concerns (SBCs) are strongly encouraged to engage with their Contracting/Agreements Office to determine what measures can be taken in the event contract/Other Transaction (OT) performance is affected due to the COVID-19 situation. SBCs are encouraged to monitor the CDC website, engage with your employees to share information and discuss COVID-19 concerns employees may have. Please contact your Contracting/Agreements Officer to identify potential impacts to the welfare and safety of your workforce and any contract/OT performance issues. Most importantly, keep in mind that only your Contracting/Agreements Officer can affect changes to your contract/OT.
Joint DoD and Component (Combined) Instructions and Topics will remain on this website until further notice. 
For more details on the transition please click here to read the latest announcement: OSD Website Changes
DoD SBIR/STTR SUPPORT HELP DESK
PHONE: 703-214-1333 || EMAIL: DoDSBIRSupport@reisystems.com
Monday – Friday 9:00AM – 5:00PM EST
Updated DoD SBIR/STTR Program & Proposal Requirements
Effective January 13, 2021, the following requirements will be in place for all SBIR and STTR proposal submissions. Details on these requirements can be found section 5.0 of the 21.1 SBIR and 21.A STTR BAAs, in the associated Component (Out of Cycle) BAA or the Component Phase II Instructions.
1. Foreign Disclosure Requirement
2. Contractor Certification Regarding Provision of Prohibited Video Surveillance and Telecommunications Services and Equipment
3. Company Commercialization Report (Volume 4)
4. Fraud, Waste and Abuse Training (Volume 6)
Pre-Release: December 08, 2020
Open: January 14, 2021
Close: February 18, 2021 at 12:00PM ET
Pre-Release: April 21, 2021
Announcement Opens: May 19, 2021
Announcement Closes: June 17, 2021
Pre-Release: August 25, 2021
Announcement Opens: September 23, 2021
Announcement Closes: October 22, 2021
Joint DoD and Component Instructions and Topics